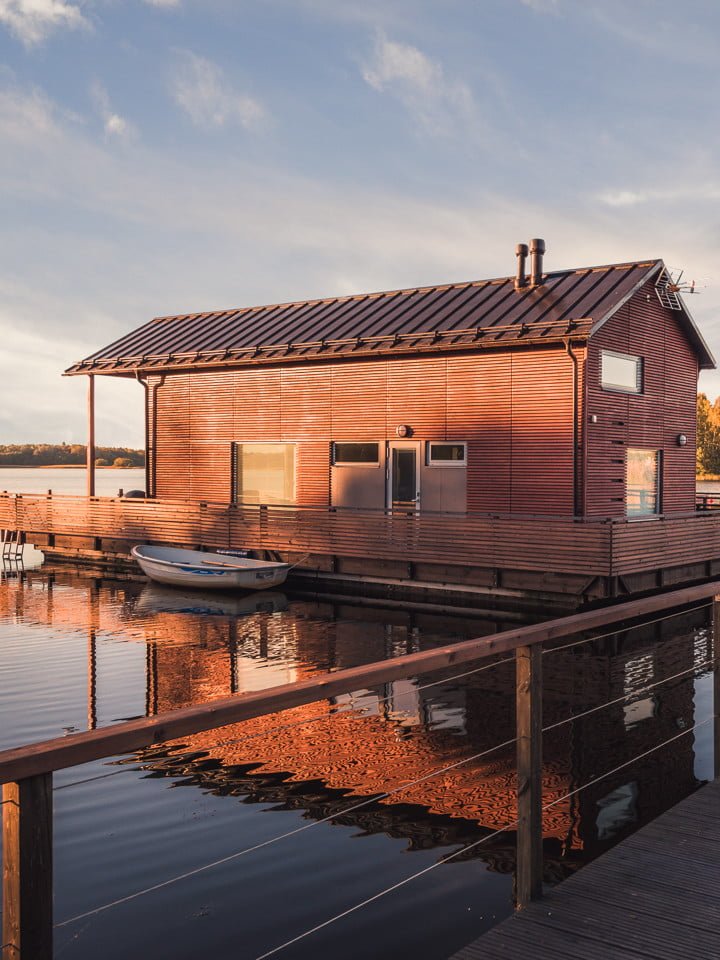 High-quality and stylish seaside villa in Kuuminainen, Pori.
The main house has three separate bedrooms, each with beds for two guests. The separate sauna building has beds for two both downstairs and in the sleeping loft. (When going to the loft, there are steep stairs that are not suitable for difficult passers-by). The sauna building also has its own toilet.
The color scheme of the villa and large windows bring light and a sense of space. The property has stylish and high-quality interior design and equipment. The villa opens onto a large terrace that extends to the beach. In addition to its own private beach, the property has a large lawn. In addition, it is possible to reserve a trailer hot tub for your use.
As an additional service, it is possible to buy bed linen, a bath towel and final cleaning.
8 x 80 cm bed, 1 x 160 cm bed
The villa is located on the coast of Pori in Kuuminainen, approx. 20 minutes drive from the city and Yyteri.
The person booking the accommodation must be at least 24 years old and must also stay at the property.
Price periods:
A
(mid-June – mid-August)
Minimum stay of three days (Mon-Thu, Thu-Mon or full week)
B
(beginning of June & end of August)
Booking for at least two days.
C
(September – May)
Booking for at least two days.
Read about general rules and cleaning instructions.
Information
General
Town
Pori
Floor area
Malspiikkitie 25, 28660 Pori
Floors
1
Completion year
2008
Pets
Allowed
Sleeping Facilities
Bedrooms
4
Beds
8
Normal Beds
8
Extra beds
2
Sleeping lofts
Yes
Bathroom equipment
Running cold water
Yes
Running warm water
Yes
Number of showers
2
Washing machine
Yes
Sauna
Sauna
With an electric stove
Separate sauna
Yes
Seashore
Name of the water system
Kuuminainen
Nearest swimming beach
0.0 km
Nearest indoor swimming pool
0.0 km
Private beach
Yes
Shallow beach
Yes
Drinking water
Drinking water
Water pipe
Equipment for children
Ask for baby cot or high chair
Yes
Cooking equipment
Toaster
Yes
Tableware
10
Microwave oven
Yes
Freezer
Yes
Coffeemaker
Yes
Dishwasher
Yes
Refridgerator
Yes
Other equipment
Television
Yes
Vacuum cleaner
Yes
Technical specifications
Cleaning equipment
Yes
WC
Number of toilets
2
Indoor toilet
Yes
Location on Map